By
Laura Eldredge
We are still celebrating Earth Day in our preschool classes this week, are you? We look for opportunities to use recycled materials all throughout the school year in our classrooms (saves on expenses). But it also provides an opportunity to show the children how items can be reused, and how by doing that, we can do our part to be "Earth savers"!
I recently participated in an "
Earth Day Blog Hop
" with a group of early childhood bloggers. We paired each of our Earth Day activities with a book, which provided an opportunity to extend the learning objectives. Since we can pick any time of the year to teach our children about recycling and taking care of the planet ... here are a few ideas using recycled materials, along with a few book titles that can be used at other times throughout the year.
Plastic bottle stamping (Spring)
Have children make art by reusing plastic water bottles. First, collect a variety of empty water bottles - look for the ones that have indentations on the bottom of them. If you are able, collect a variety of bottles in a few sizes, to make a variety of prints.
Next, cover tables with newspaper (another recycled item!), and have small containers of paint and with paint brushes. Then, have children paint the bottom of their plastic bottles and then press onto their paper to make prints, designs or painted scene.
Compost in a bottle (Summer)
To teach young children about reducing and reusing food waste, and how food scraps can be turned into something useful for the environment - try making

compost in a bottle

. Children can learn some great vocabulary words like compost, conservation, decompose.
Milk Jug Igloo (Winter)

See how lots (and LOTS) of empty milk jugs can be hot glued together to make a giant IGLOO!




Books




The Adventures of a Plastic Bottle


Follows how plastic bottles are made, how they get recycled, and some of the things they can be recycled into.
The Earth Book
Illustrates ten simple ways the children can help take care of the earth!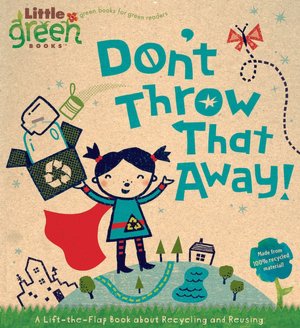 Don't Throw that Away
Follows an eco-conscious super hero as he teaches kids how to recycle and reuse common household items.
More on Earth Day? Here are a couple of other posts about taking care of our Earth and recycling ideas from our preK + K sharing blog:
Also check out:
Laura Eldredge is a teacher and curriculum coordinator at a NAEYC accredited early childhood program in Connecticut. She also co-founded the website
The SEEDS Network
, as a way to provide early childhood professionals with ideas and resources that support them in their quest to provide quality care and education to our youngest learners. She blogs at
www.theseedsblog.com
.