I was so excited to realize that PreK+K Sharing was celebrating it's second anniversary. That means I have been following from the very beginning. Now I am humbled to be joining this great group of bloggers as a regular contributing author.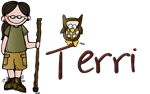 Who am I? I am
Terri Izatt
and I blog over at
Kinder Kapers
. I am fairly new to blogging myself...but not to teaching. I have been teaching on and off for 24 years, but I just started blogging a little over a year ago. This is my second go round in Kindergarten, but the first time was back in the 80's. Things have changed so much, that almost doesn't count.
What are my passions? That would be easy, my family, anything outdoors, and picture books.
I am a grandma. Yes, I can finally say that out loud. It took me awhile to admit I was old enough to be a grandma. I have four wonderful children. They each married someone I am happy to call mine (they call themselves joiners), and now I have 10 (11 in June) beautiful, amazing, fabulous grandchildren. Everything I thought silly and stupid that grandparents said when I was newly married is true. My favorite being, "If I knew how much fun grandkids were I would have had them first." My husband says that all the time. If you are not a grandparent...hang in there. I hope you will someday have the chance to understand why grandparents get a little goofy when they are with, or talk about their grandkids.
My next passion is being outside, or bringing the outdoors in. This time of year it's all about leaves...going out to look at them, playing in them, pressing them in books, creating with them. I love all the colors, the cooler temperatures, watching the seasons change, and I love sharing that with my kinder kids. As adults we sometimes forget that these littles really haven't had much experience in their short lives to know and remember the changing of the seasons. They often haven't had a chance to step out of themselves to take the time to really notice and observe the outside world. They need hands on. Touch and look and smell.
We made these seasons spinners back in September when we were talking about the autumnal equinox.
We just did one plate a day. We talked about everything we could remember about that season, we looked at pictures, we read some stories, and went outside to see what was happening in our outdoor education space. We "adopted" a pear tree and harvested some pears.
We have since gone back to our tree and saw the leaves change colors and just this week, they mostly fell off. We will be returning throughout the school year to notice the changes and to see if we can tell if our tree is still alive. Then this spring I am sure they will be excited to notice the buds beginning to swell. Adopting a tree and observing it through the seasons is a great activity and can be started anytime on the circle of the seasons. It is not too late.
My
FAVORITE
activity however is
raising butterflies
. I do it every spring. I blogged about it
here
. In northern Nevada, I wait until May because it can still freeze in the mornings and I want the poor things to live. I order enough for all my kiddos to work with one, plus some extras (I am always worried that some will not live and my students will be devastated). When they have hatched I set up a screen porch style tent and release the butterflies into the tent. Our very own butterfly garden!! I got the idea after taking my grandkids to the zoo. They had one in Boise and one in Salt Lake City. I thought I want to do that! You can do it too. I cannot say enough about all the children gain from this experience.
Experience! That is what children this age need. They need hands on, stuff to touch, freedom to explore, and guidance towards learning. I love holidays and believe that we should use what children are excited about to move their learning along. I am always looking at the dollar stores and holiday isles for props to use. At Halloween time I found
eyeballs
and
batwing rings
. I created several games to go with them. For Thanksgiving I am working on counting with candy corn and pumpkins. Christmas will find us playing with
Jingle Bells
.
My final passion? Books! Especially children's books. I blame that on my mom, Patricia Thomas, she is an author of children's books. Some of you may know her first book....Stand Back Said the Elephant I'm Going to Sneeze. It's been around for a long time.
I love starting my lessons with a story, I love ending them with a craftivity inspired by that story, and I love getting books in to the hands of my students. Mostly paper books I have created or gotten from various sources on the internet. But I also buy the dollar books from Scholastic to create classroom sets (25.00 isn't too bad is it?).
Last Spring we explored Frog and Toad Are Friends and Debbie Clement's
Polywogs
. We looked at
fiction vs. non-fiction
and created
these
:
I know I have been long winded and for that I apologize...here is a little reward for sticking with me. My students needed practice with positional words.....so after reading Run Turkey Run by Diane Mayr, I created
Hide Turkey Hide
. We play with putting ourselves in those under, over, behind, between spots around each other, and our room, and outside, then we put our turkey in those spots too. Grab this cute little book in my tpt store (it's free).
I promise to be less chatty next month. I am looking forward to seeing you each month on the 3rd! Until then stop by and see me at
Kinder Kapers
.