Learning Guide and Learners co-discovering with young learners
being treated like co-creators, co-researchers and co-scientists.
John Coltrane and Miles Davis creating musical synergy in 1958
Synergy can be achieved in any moment and once
achieved it can be built upon, studied, practiced and elevated.
Synergy is not just any one moment, but a set of ongoing
moments which can culminate in the creation of something
physical, as is the case with this garden.
Synergy can built within families and friends. The creation
of synergy in community is of critical importance to our
planet. This set of family and friends are in the UK.
The building of synergy can include modeling of ideas and it is important to also include opportunities for the learner to express their own desires and perspectives, as can be seen with the different levels of complexity of drawings, some by the adult, some by the young learner and some by both!
An early childhood classroom that uses both Reggio and Montessori inspired materials as provocations for the young learners who call this one of their homes.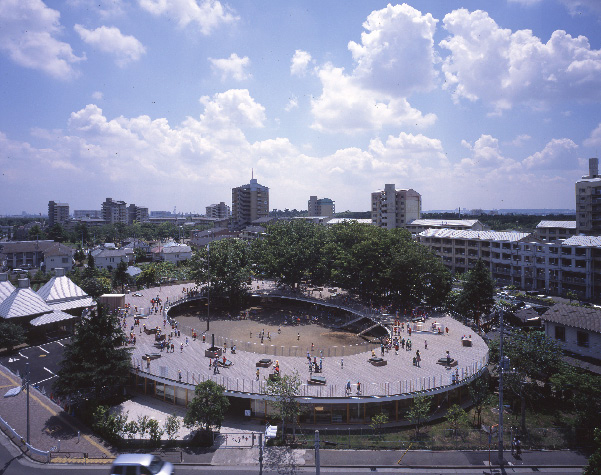 Open up: Fuji Kindergarten by Tezuka Architects features an outdoor play area on its roof. | PHOTOGRAPHER: KATSUHISA KIDA/FOTOTECA; CREATIVE DIRECTOR KASHIWA SATO; LIGHTING DESIGNER: MASAHIDE KAKUDATE/MASAHIDE KAKUDATE LIGHTING ARCHITECT & ASSOCIATES,INC.
Fuji Kindergarten
(Yes, the top of this school is the roof, and yes, children are able to explore, run and interact with their surroundings)
A Waldorf school in Seattle. This is a physical example of synergy!
Una de las clases de la escuela infantil waldorf de Belloterra, Spain. A classroom from an early childhood classroom in Belloterra, Spain.
It took children's book illustrator Maira Kalman an entire year to track down the flea-market treasures that she transformed into the alphabet at the John Randolph School, P.S. 47 in the Bronx. The stimulating space is divided into colorful reading, research, and study areas with floor graphics, mobile shelving, and easily positioned tables and chairs, including Pierre Paulin's "Orange Slice" chair, peeking out in the background. Photo ©Peter Mauss/Esto.
Artist rendering of open kitchen and co-located teaching kitchen for upper and
lower elementary schools, Dillwyn, Virginia
Anne Frank Inspire Academy Middle School in San Antonio, Texas
A signature Wall composed of cross sections of local wood contains
a storage area with whiteboard doors for brainstorming sessions
INTERNATIONAL SCHOOL OF BRUSSELS HIGH SCHOOL
What kinds of questions do you tend to ask others?

What kinds of questions do you tend to ask yourself?

When someone asks you a questions, do you sometimes respond with a question that leads to even more conversation and thought?
When we think of inspiration, we sometimes think of what inspires us. Other times we think about what inspires others. I'd like you to think about:
What inspires others to be inspired?

What inspires others to inspire others?
Paralympic Games in London
When you feel happy, what is it that prompts that feeling of happiness?

When you achieve a goal, what is it that prompts that feeling of achievement?

When you feel negative in some way, what is it that prompts that feeling?

When you miss a goal, do you always feel a sense of disappointment? Why or why not?

What percentage of people in your life actively support your projects and your general approach to life?
An example from a page of Sam the Ant - The Flood (Book 1)
Save
Save
Save
Save
Save
Save
Save
Save
Save
Save
Save
Save