By Deb Chitwood from Living Montessori Now
I love fall leaf activities! There are so many activities that can be done with them in every curriculum area.
I shared a list of free leaf printables in my
post today at Living Montessori Now
. Here, I'm sharing some Montessori-inspired leaf activities using free printables for preschoolers through first graders.
You'll find many activities for preschoolers through first graders throughout the year along with presentation ideas in my
previous posts at PreK + K Sharing
. You'll also find ideas for using free printables to create activity trays here:
How to Use Printables to Create Montessori-Inspired Activities
. At Living Montessori Now, I have a post with resource links of
Free Printables for Montessori Homeschools and Preschools
.
Disclosure: This post contains affiliate links at no cost to you.
Fall Leaf Lacing Activity
Free Printable:
Fall Leaf Lacing Cards
from Gift of Curiosity
The tray is a
Multicraft tray
. This activity just requires printing out, laminating, and cutting out the fall leaves; punching holes around the leaves; and using tape to create an end on a piece of yarn for threading.
There are a number of options of leaves, so just choose the ones you prefer.
Fall Leaf Cutting Strips
Free Printable:
Fall Cut It Out Pack
from This Reading Mama There are 3 different levels of cutting strips you can use. I used
Fiskar kids' scissors
. It's easiest for children to cut the strips if you print them out on cardstock.
Fall Leaves Memory Game
Free Printable:
Autumn Leaves Printable Memory Game
from Mr
Printables
You can't really tell from the photo, but these are lovely leaf images with lots of detail. The printable even has leaves you can use for the backs of the cards.
Fall Leaf Addition and Subtraction Problems
Free Printable: Leaf Addition and Subtraction (from Leaves Pack part 2) at 3 Dinosaurs
I like this printable because it has both addition and subtraction equations, and it's a hands-on introduction to story problems. I used these acrylic leaves, although these acrylic leaves would would work well, too. You could use the numerals that come with the printable, or your child or students could write the numerals using erasable marker.
Math Fact-Family Leaves and Trees
Free Printable: Math Fact Family Trees from The Educators' Spin On It
This is another hands-on math activity, focusing on fact families. Again, your child or students can use the cards to create equations, or they could write them out by hand using an erasable marker.
Word-Family Tree and Leaves
Free Printable: Word Family Trees from Relentlessly Fun, Deceptively Educational
This was amazingly easy to prepare using the Martha Stewart Crafts Maple Leaf Punch. I used colored cardstock ... a different color for each tree. I simply used the printable word-family list to write the correct letter or letters on each leaf. I didn't laminate the individual leaves, although you'd want them laminated for a classroom.
Free Leaf Printables and Montessori-Inspired Fall Leaf Activities
You'll find more leaf activities and ideas in these Living Montessori Now resources:
Montessori-Inspired Autumn Leaf Unit
Autumn Leaf Unit Study Pinterest Board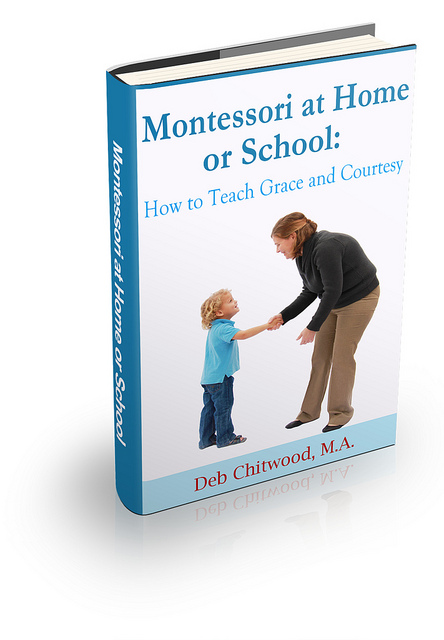 If you'd like to focus on manners with children, please check out my eBook Montessori at Home or School: How to Teach Grace and Courtesy! It's written for anyone who'd like to feel comfortable teaching manners to children ages 2-12. I'm also one of the coauthors of the book Learn with Play – 150+ Activities for Year-round Fun & Learning!
Deb Chitwood is a certified Montessori teacher with a master's degree in Early Childhood Studies from Sheffield Hallam University in Sheffield, England. Deb taught in Montessori schools in Iowa and Arizona before becoming owner/director/teacher of her own Montessori school in South Dakota. Later, she homeschooled her two children through high school. Deb is now a Montessori writer who lives in San Diego with her husband of 40 years (and lives in the city where her kids, kids-in-law, and toddler granddaughter live). She blogs at Living Montessori Now.