By Deb Chitwood from Living Montessori Now
A community helper theme is especially great at the beginning of the school year. You could do a big community helper unit study or focus on one career at a time.
Whichever way you organize your unit, medical workers would be a natural part of it. And, for many children, an ambulance is a high-interest part of the medical community.
I shared a list of free ambulance printables in my
post today at Living Montessori Now
. Here, I'm sharing some Montessori-inspired ambulance activities using free printables for preschoolers through first graders. You'll find many activities for preschoolers through first graders throughout the year along with presentation ideas in my
previous posts at PreK + K Sharing
.
You'll also find ideas for using free printables to create activity trays here:
How to Use Printables to Create Montessori-Inspired Activities
. At Living Montessori Now, I have a post with
resource links of
Free Printables for Montessori Homeschools and Preschools
.
Disclosure: This post contains affiliate links at no cost to you.
Ambulance Lacing Activity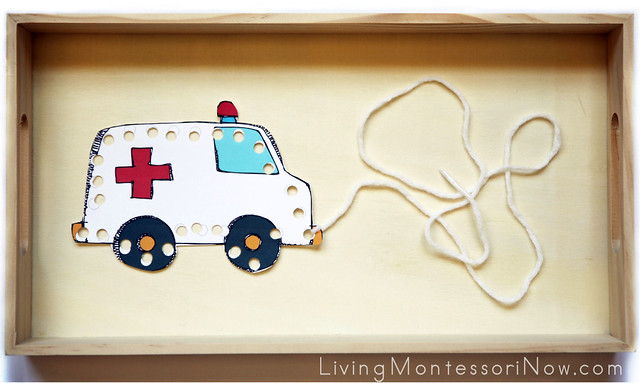 Free Printable: Ambulance Lacing from
Zoomin' Movin' Alphabet Letter Aa
at Royal Baloo
The tray is a
Multicraft tray
. This activity just requires printing out, laminating, and cutting out the ambulance; punching holes around the ambulance; and using tape to create an end on a piece of yarn for lacing. Older children could use yarn threaded through a needle.
"Dial 911" Song
Free Printable:
"Dial 911″ Song
from DLTK's Crafts for Kids
The "Dial 911" song is a fun way for young children to learn about calling 911. I would definitely include this song as part of a community helper unit study.
I would use this printable for a tabletop or shelf display that's part of the medical or community helper theme. I simply printed it out, laminated it, and added it to a tabletop easel.
Ambulance Cards and Counters
Free Printable:
Numberline – Police and Ambulance Theme
from City Teacher Goes Country at Teachers Pay Teachers
This is a cute printable for placing numbered ambulances in order from 1-10. I used the printables as number cards for Montessori-inspired cards and counters with an ambulance theme.
I used 55 red glass gems for counters and a glass candle coaster to hold the counters.
I used a Montessori Services rug for my layout. I like to lay out my numbers and counters in the traditional Montessori layout of rows of two counters with a left-over counter centered below the bottom row. This gives a visual impression of odd and even.
For more about creating DIY numbers and counters and a link on how to present the lesson, check out my DIY Cards and Counters post.
Aa is for Ambulance Activity
Free Printable: Aa is for Ambulance Do-a-Dot Printable from Zoomin' Movin' Alphabet Letter Aa at Royal Baloo
I used a large plastic tray from Montessori Services. I placed only the number of glass gems in the dish that are needed to complete the activity for a control of error.
I also added quick sticks from Montessori Services to include a fun fine-motor activity. I sometimes use a sugar tong from Montessori Services instead of the quick sticks.
3-D Paper Craft Ambulance
Free Printable: 3-D Paper Craft Ambulance from The Home School Zone This is an advanced cutting activity and fun craft that would work well for kindergarteners through elementary-level children.
Elementary-level children might like to make the ambulance for a younger sibling. I used Fiskar kids' scissors.
Here's the link to my favorite laminator ... inexpensive and great for almost any activity that needs to be laminated!
More Free Ambulance Printables and Montessori-Inspired Ambulance Activities
Y
ou'll find more ambulance activities and ideas in these Living Montessori Now resources: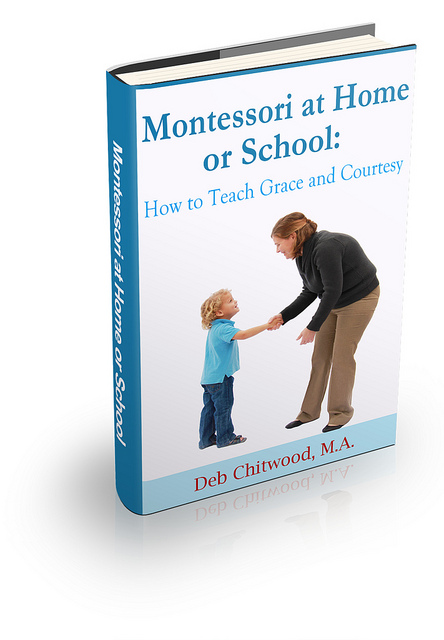 If you'd like to focus on manners with children, please check out my eBook Montessori at Home or School: How to Teach Grace and Courtesy! It's written for anyone who'd like to feel comfortable teaching manners to children ages 2-12. I'm also one of the coauthors of the book Learn with Play – 150+ Activities for Year-round Fun & Learning!
Have a happy new school year!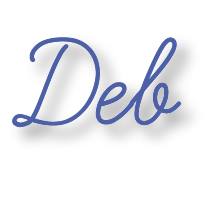 Deb Chitwood is a certified Montessori teacher with a master's degree in Early Childhood Studies from Sheffield Hallam University in Sheffield, England. Deb taught in Montessori schools in Iowa and Arizona before becoming owner/director/teacher of her own Montessori school in South Dakota. Later, she homeschooled her two children through high school. Deb is now a Montessori writer who lives in San Diego with her husband of 40 years (and lives in the city where her kids, kids-in-law, and toddler granddaughter live). She blogs at Living Montessori Now.