By Deb Chitwood from Living Montessori Now
I grew up 40 miles from DeSmet, South Dakota, of Little Town on the Prairie fame. I was always a fan of the Laura Ingalls Wilder book series and loved studying about that time in history. I enjoyed sharing the Laura Ingalls Wilder books and activities with my own children. Today, I want to share some ideas for Montessori-inspired pioneer activities that can be used in the classroom or at home.
I shared a list of free pioneer printables in my post today at Living Montessori Now. Here, I'm sharing some Montessori-inspired pioneer activities using free printables for preschoolers through first graders. You'll find many activities for preschoolers through first graders throughout the year along with presentation ideas in my
previous posts at PreK + K Sharing
.
You'll also find ideas for using free printables to create activity trays here:
How to Use Printables to Create Montessori-Inspired Activities
. At Living Montessori Now, I have a post with resource links of
Free Printables for Montessori Homeschools and Preschools
.
Disclosure: This post contains affiliate links at no cost to you.
Covered Wagon Lacing
Free Printable: Covered Wagon Lacing from
Wild West Mega Pack
at 123 Homeschool 4 Me
The tray is a
Multicraft tray
. This activity just requires printing out, laminating, and cutting out the covered wagon; punching holes around the wagon; and using tape to create an end on the yarn for lacing. Older children could use yarn threaded through a needle.
Pioneer Counting and Skip Counting Puzzles
Free Printable:
Pioneer Counting and Skip Counting Puzzles
from Pioneer Pack, Part 1 from 3 Dinosaurs
I printed out, laminated, and cut out the puzzle pieces. You can choose a pioneer puzzle with simple linear counting or with skip counting. For younger children, I would just use one puzzle per box. For older children, you could add all four puzzles to a box for extra difficulty. I used a
Really Useful Pencil Box
. You could also use a
zippered pencil pouch
to create an activity bag with the puzzles for traveling or waiting rooms.
Pioneer Counting and Addition Roll and Cover Games
Free Printable:
Wagon Roll and Cover and Cabin Roll and Cover
from Pioneer Pack, Part 4 from 3 Dinosaurs
I added two activities/papers to this tray for children at different levels. The covered wagon is a simple counting activity. The cabin in the page below it has an addition activity using two dice. I used
clear glass gems
as markers so children could see the numbers through the gems. I also used a
sugar tong
from Montessori Services to add an activity for fine-motor development.
Pioneer Town-Store Money Activity
Free Printable: Pioneer Town-Store Money Activity from
Little House in the Big Woods and Pioneer Unit
at Every Star Is Different
I really like this activity for giving a high-interest way to help children become comfortable dealing with coins. If you have a children's cash register, that could be used to make the activity even more meaningful.
Younger children could match the coins to the card. I placed only the coins in the dish that are needed to complete the activity for a
control of error
. You could use 4, 8, or 12 cards. Older children could match the actual money amount to the coin cards.
Pioneer Beginning Sounds Clip Cards
Free Printable: Pioneer Beginning Sounds Clip Cards from
Jump in to Summer Learning: Pioneers
(Day 5, Kindergarten) at Royal Baloo
The basket is a
Montessori Services basket
. I used
mini clothespins
to add both difficulty and interest. I also added control dots to the back to identify the correct answer when the child turns the card over after clipping on the clothespin.
Pioneer Girl and Boy Paper Doll Cutting Activity
Free Printable:
Pioneer Girl and Pioneer Boy Paper Doll Printables
from Little House on the Prairie
This is an advanced cutting activity and fun craft that would be of interest to kindergarteners through elementary-level children. I used
Fiskar kids' scissors
.
Here's the link to
my favorite laminator
... inexpensive and great for almost any activity that needs to be laminated!
More Free Pioneer Printables and Montessori-Inspired Pioneer Activities
You'll find more pioneer activities and ideas in these Living Montessori Now posts:
Little House on the Prairie Unit Study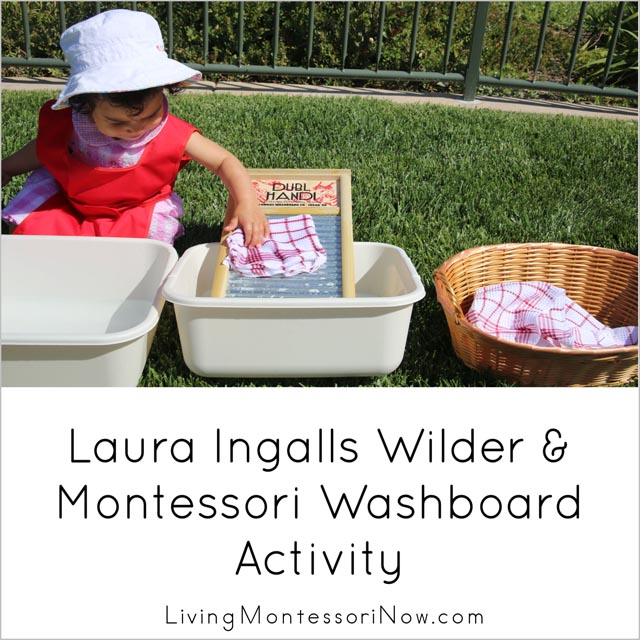 Laura Ingalls Wilder and Montessori Washboard Activity
Frontier Life Unit Study Pinterest Board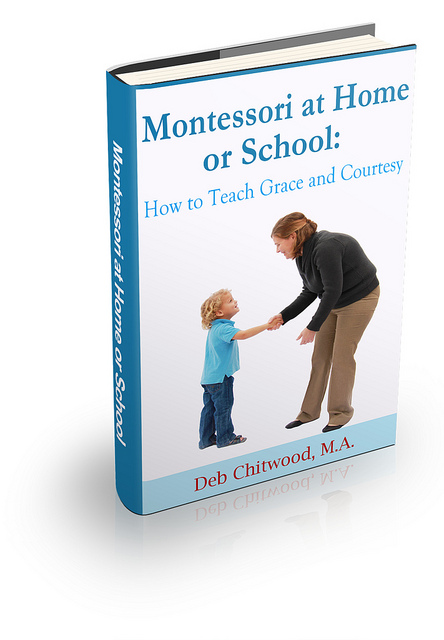 If you'd like to focus on manners with children, please check out my eBook Montessori at Home or School: How to Teach Grace and Courtesy! It's written for anyone who'd like to feel comfortable teaching manners to children ages 2-12. I'm also one of the coauthors of the book Learn with Play – 150+ Activities for Year-round Fun & Learning!
Have a great rest of the summer!
Deb Chitwood is a certified Montessori teacher with a master's degree in Early Childhood Studies from Sheffield Hallam University in Sheffield, England. Deb taught in Montessori schools in Iowa and Arizona before becoming owner/director/teacher of her own Montessori school in South Dakota. Later, she homeschooled her two children through high school. Deb is now a Montessori writer who lives in San Diego with her husband of 40 years (and lives in the city where her kids, kids-in-law, and toddler granddaughter live). She blogs at Living Montessori Now.