By Deb Chitwood from Living Montessori Now
Dinosaur activities are always fun for dinosaur lovers. And a dinosaur theme is one of my favorite summer units (especially fun this summer with the opening of Jurassic World)!
I shared a list of free dinosaur printables in my post today at Living Montessori Now. Here, I'm sharing some Montessori-inspired dinosaur math activities using free printables for preschoolers through first graders.
You'll find many activities for preschoolers through first graders throughout the year along with presentation ideas in my previous posts at PreK + K Sharing. You'll also find ideas for using free printables to create activity trays here: How to Use Printables to Create Montessori-Inspired Activities.
At Living Montessori Now, I have a post with resource links of Free Printables for Montessori Homeschools and Preschools.
Disclosure: This post contains affiliate links at no cost to you.
Count the Dinosaurs
Free Printable: Count the Dinosaurs from Dinosaur Pack (part 2) from 3 Dinosaurs.
I also used the numbers from the same printable. For older children, there are Greater Than/Less Than, Add the Dinosaurs, and Subtract the Dinosaurs printables in the same printable pack. You could have more than one printable on the tray to accommodate different ages and ability levels.
Free Printable:
Safari Ltd. Dino Babies TOOB Key
hosted at Living Montessori Now
This activity uses a
large plastic tray
from Montessori Services and a smaller
Montessori Services clear acrylic tra
y for 10 dinosaurs from the
Safari Ltd. Dinos TOOB
For the layout, I used a
Montessori Services rug
. I used the Safari Ltd. TOOB key as a separate matching activity for children and as a way for you to identify each of the dinosaurs on the tray.
Palentologist Skip Counting Puzzles
Free Printable: Palentologist Puzzles from
Dinosaur Update (Dinosaur Pack part 4
) from 3 Dinosaurs
I simply printed out, laminated, and cut out the puzzle pieces. I like that there's a male paleontologist and a female paleontologist. They look the same except for their hair.
Each puzzle has skip counting by 2's to 20. To make it more challenging, you could put both puzzles in the same container. I used a
Really Useful Pencil Box
.
I love activity bags for trips and waiting rooms, so I also put together a paleontologist skip counting puzzles activity bag. This sort of activity would be easy to prepare with any printable puzzle. I used a
zippered pencil pouch
for the bag.
Dinosaur Number Mazes
Free Printable:
Dinosaur Roar PreK-K Pages
from Homeschool Encouragement
This was super simple to prepare. I used two dinosaurs from the
Safari Ltd. Dinos TOOB
. The child simply flies the pterodactyl through the maze or walks the dinosaur through the maze.
There are two mazes ... one with numbers from 1-10 and one with skip counting by 10's to 100.
Dinosaur Number Line Addition and Subtraction/Hatching Dinosaurs
Free Printable:
Dinosaur Number Line Addition and Subtraction Within 10
by The Teaching Treehouse at Teachers Pay Teachers
Free Printable:
Safari Ltd. Dino Babies TOOB Key
hosted at Living Montessori Now
For this activity, I used the 10 dino babies from the
Safari Ltd. Dino Babies TOOB
. You could use regular dinosaurs rather than dino babies, but I think the dino babies are a cute touch.
The tray is a
Multicraft tray,
and the small basket is a
Montessori Services basket
. Montessori Services carries baskets in sizes that are often difficult to find. You could have an erasable marker for children to write the answers on the number line card, although it would be fine for the child to simply find the correct answer on the number line.
The answer could be checked by adding or subtracting the eggs with the dinosaur babies.
I placed the dinosaurs in
jumbo plastic Easter eggs
. (Note: You'll find a fun subtraction activity using "dinosaur eggs" at Every Star Is Different.)
If you have younger children, you could use dinosaur count and clip cards or dinosaur number cards to match to the correct number of eggs. The child could place the numbers upside down and draw the number to match with the correct number of "dinosaur eggs."
Again, the Safari Ltd. TOOB key is for the child to match the dinosaurs at the end and to make it easier for you to identify each of the dinosaur babies.
Measuring Dinosaurs
Free Printable:
Dinosaur Unit Science and Culture Printable Pack
from Every Star Is Different
Every Star is Different has an amazing number of free dinosaur cards. I printed out and cut out some of the dinosaurs found in the
Safari Ltd. Dino TOOB
. Then I glued the dinosaur image on one side with the skeleton and dinosaur length on the other side.
I used a simple
bamboo paper plate holder
to hold the cards and a
tape measure
. This activity would be fun for two children or a group of children (or one child and parent or teacher). This would definitely be a good activity to take outdoors!
Here's the link to my favorite laminator ... inexpensive and great for almost any activity that needs to be laminated!
More Free Dinosaur Printables and Montessori-Inspired Dinosaur Activities
You'll find lots of Montessori-inspired dinosaur activities and ideas in these Living Montessori Now posts:
Montessori-Inspired Dinosaur Unit
Montessori-Inspired Dinosaur Fun with Printables, Water Beads, and Glass Gems
Montessori-Inspired Dinosaur Activities Using Dinosaur Replicas
Make Fossils from Montessori at Home!
Dinosaur Unit Study Pinterest Board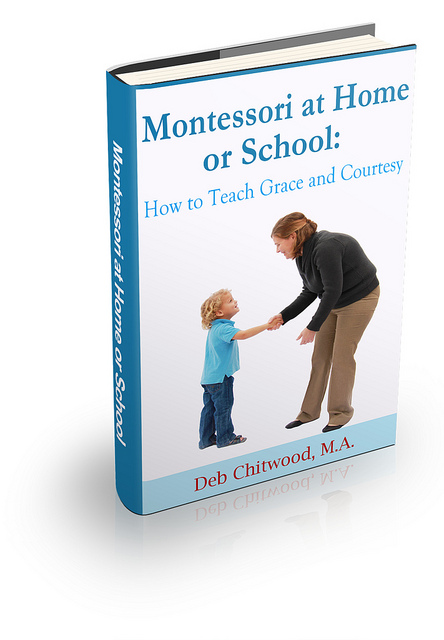 If you'd like to focus on manners with children, please check out my eBook Montessori at Home or School: How to Teach Grace and Courtesy! It's written for anyone who'd like to feel comfortable teaching manners to children ages 2-12.
Deb Chitwood is a certified Montessori teacher with a master's degree in Early Childhood Studies from Sheffield Hallam University in Sheffield, England. Deb taught in Montessori schools in Iowa and Arizona before becoming owner/director/teacher of her own Montessori school in South Dakota. Later, she homeschooled her two children through high school. Deb is now a Montessori writer who lives in San Diego with her husband of 40 years (and lives in the city where her kids, kids-in-law, and toddler granddaughter live). She blogs at Living Montessori Now.