By Deb Chitwood from Living Montessori Now
My son was obsessed with vehicles, so I know first-hand how powerful vehicle learning activities can be.
So today, I'm focusing on hands-on learning activities with cars. You'll find LOTS of free car printables in my Free Car Printables and Montessori-Inspired Car Activities. Here, I'm sharing some Montessori-inspired car activities using free printables for preschoolers through first graders.
You'll find many activities for preschoolers through first graders throughout the year along with presentation ideas in my previous posts at PreK + K Sharing. You'll also find ideas for using free printables to create activity trays here: How to Use Printables to Create Montessori-Inspired Activities.
At Living Montessori Now, I have a post with resource links of Free Printables for Montessori Homeschools and Preschools.
Disclosure: This post contains affiliate links at no cost to you.
Car Color Matching Activity
Free Printable: Car Color Match from Childcareland
There are 12 colors in the printable, but I use the 11 colors that match Montessori color box 2. You could just use the 3 primary colors or whatever colors you want your child to work with.
Free Printable: Montessori Color Matching Cards from Montessori Print Shop
For this activity, I used a Multicraft tray, Montessori Services basket, and a small bamboo condiment cup to hold the pieces.
For the layout, I'd just lay out one column of color tablets and then have the child match the second column (unless color tablets haven't been presented before. If not, I'd give the introductory color tablet presentation). Then the child can match the colored cars to the color matching cards (color tablets) and finally add the colored circles to the cars. (Note: For our floor layouts, I always use a Montessori Services hemmed work rug.)
Highway Shapes
Free Printable: Highway Shape Cards (or highway letter or number cards) from Making Learning Fun If you'd prefer highway letters, check out the ones at Making Learning Fun or the ones linked to in my post at Living Montessori Now.
This is awesome! You could just use basic shapes such as circle, triangle, and square. Or reinforce shapes like ellipse (called "oval" in the printable), trapezoid, and pentagon. There aren't all 10 Montessori metal inset shapes, but there are quite a few.
I used different colors of Micro Machines. We still had the Micro Machines from when my now 31-year-old son was little. He loved them too much to give them up! If you can find them, they're perfect for this activity.
You could make a green dot with 1/4" color control label dots to show where to start driving (tracing the shape).
Spelling with Car Movable Alphabet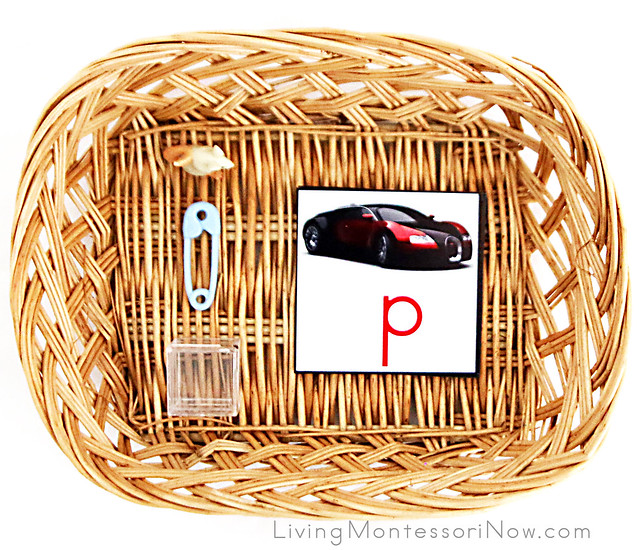 Free Printable: Car Movable Alphabet (part of my subscriber freebie pack, so just sign up for my email to get the link and password ... or check the bottom of your latest newsletter if you're already a subscriber)
I just used some Montessori Services language objects, which can be purchased individually or in the starter set. My basket is a Montessori Services basket.
You'll find activities using Montessori Services language objects with a similar layout. The car movable alphabet is especially helpful for a car theme or for vehicle lovers in general. Because children can write (spell) before they can read, many children will be able to hear the sounds needed in a word and add the movable alphabet letters even if they can't read yet. So this will often work with children who just know phonetic sounds for letters. It's great for readers, too! Just adapt the difficulty of objects for your child.
Beginning Reading - Race Car Blending
Free Printable: Race Car Blending (CVC, digraphs, blends) by Engage2Inspire at Teachers Pay Teachers
I think this is totally cool ... such a great idea for reinforcing blending sounds to read words. Many children have difficulty with that part of learning to read. This is super easy to prepare. I just printed out and laminated the printable and added a Micro Machine race car (a larger race car might work if you set your printer at 125% in landscape). I love that there are a number of different levels for this activity, although it's most effective with children just learning to blend.
To do this activity, I would have the child "warm up" the car slowly and say each letter sound as he or she drives the car over it. Then I'd have the child go faster and faster each time, saying the sounds faster and faster until the word is clear. For a child who can't yet blend sounds, you could say the sounds yourself while your child moves the race car until the word is obvious. I'll have a post tomorrow at Living Montessori Now with more extensions for this printable!
More Free Car Printables
Go to my post at Living Montessori Now for links to free car printables from around the blogosphere: Free Car Printables and Montessori-Inspired Car Activities. And be sure to subscribe to my email list if you'd like to get an exclusive free printable each month (plus two more awesome freebies right away): Free Printables.
You'll find lots of Montessori-inspired transportation activities and ideas in these Living Montessori Now resources:
If you'd like to focus on manners with children, please check out my eBook Montessori at Home or School: How to Teach Grace and Courtesy! It's written for anyone who'd like to feel comfortable teaching manners to children ages 2-12. I'm also one of the coauthors of the book Learn with Play – 150+ Activities for Year-round Fun & Learning!
Deb Chitwood is a certified Montessori teacher with a master's degree in Early Childhood Studies from Sheffield Hallam University in Sheffield, England. Deb taught in Montessori schools in Iowa and Arizona before becoming owner/director/teacher of her own Montessori school in South Dakota. Later, she homeschooled her two children through high school. Deb is now a Montessori writer who lives in San Diego with her husband of 41 years (and lives in the city where her kids, kids-in-law, and toddler granddaughter live). She blogs at Living Montessori Now.